Pacific Deluxe 2 in 1 Trailer/Stroller 2 Child
The Pacific Deluxe 2 in 1 Trailer/Stroller is a Bike Trailer that is clipped to the back wheel of your bike via an axle mount to tow behind your bike. It comes with 2 harnesses which is a 5 point harness for safety but you can convert it into a 1 child seat and only use 1 harness. The Trailer also comes with 2 front wheels and a handlebar to convert into a Stroller when needed.
Summary
My name is Cat Hopkins and I work at BB Cycles, I am also a mum of a 1-year-old for which we bought this trailer. My Partner and I have grown up around bikes our whole life due to racing BMX so when we had Tyson we didn't want to get a Bike Seat for him straight away we opted for the Trailer instead. I am writing this review to help mums and dad decide if a trailer is the way they want to go. I went with the Pacific Deluxe 2 in 1 Trailer/Stroller because I knew while we were on holidays I wanted to be able to convert it to a Stroller and not have to have my pram with me at all times. I knew we could ride somewhere and if we needed to walk to our destination, we could convert it to a stroller and I wouldn't have to carry my little man.
My Overall rating of this product is 4/5 and below I explain why.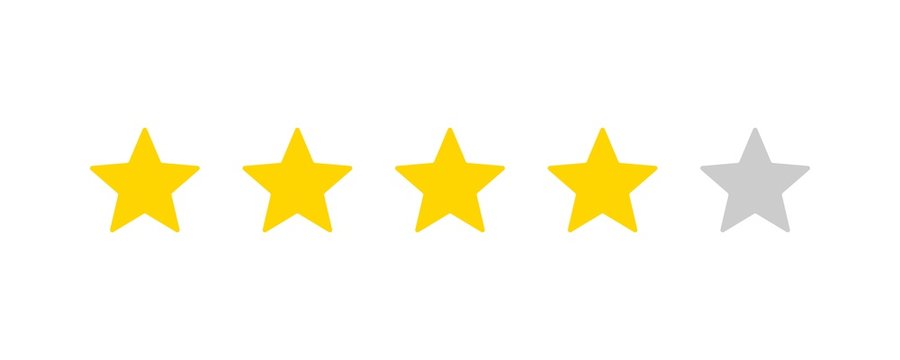 This Product is not available to purchase on the BB Cycles Website but is available for Special Order. If you would like to buy this product contact us here.

Features
Easily convertible combination Trailer/Stroller.
Carries 1 or 2 children.
Total carrying capacity: 45kg
Folds flat easily for transport and storage.
Alloy frame and wheels. Alloy connecting arm.
Polyethylene-coated fabric.
Easily removable 20" side wheels, alloy rims, sealed bearings, and swivel front wheels.
Front and rear reflectors plus a large rear reflective strip.
Easily attaches to bike via quick release hitch on bike rear axle (works with a quick release or nutted axle).
Dual locking brakes.
5-point safety harness with padded seats.
Safety strap on the universal hitch.
Large rear storage compartment. Plus smaller rear and dual internal storage pockets.
Detachable stroller handle.
The front screen rolls up for use in warm weather.
Insect screen and rain cover.
Front, side, and rear viewing windows.
Safety flag included
What is Pacific?
Pacific makes bicycle accessories which include Bike Trailers for Children & Pets, Bike Racks, and Tag-a-Long Bikes. There isn't a lot of information on the actual company online but they seem to have products sold in multiple stores and are distributed by The Bicycles Corporation Australia.
Pros and Cons
PROS
Big back pocket for storage. I placed his helmet and the wheels or axle bar in there when the other was in use.
Super easy to set up, took me about 15mins to set the whole trailer up, and was ready to go
Loved that you could change between 1-2 Children's Seats. Tyson now sits in the middle and has so much room around him.
Rolls Smooth indoors and outdoors in Stroller Mode
Harness straps were adjustable depending on the height of the child
I love that it still has a 5 point harness for safety
The wheels & Handle are detachable and the Trailer folds down to be quite compact for Storage.
Can buy multiple axle hitches ($30 ea) so you don't have to change when using another bike.
CONS
Tyson was 8.5 Months Old when we used it and he was probably still a little too small for it despite it saying that 8 Months is the youngest to use. It should probably go more off Height. Despite the adjustable harness height, his shoulder were not at the level so it made him sit a little awkward, and wasn't enough room for him to be able to wear his helmet with it.
With Tyson in it, it was a little heavy to get going but once you were going it was really smooth to ride with.
Though I wrote how it folds to be a Pro I believe it is also a Con as packing it to travel, it does take up a lot of space.
Side Panels would be better off with mesh as well, as when you have the rain cover on there isn't much airflow in the seat
Photos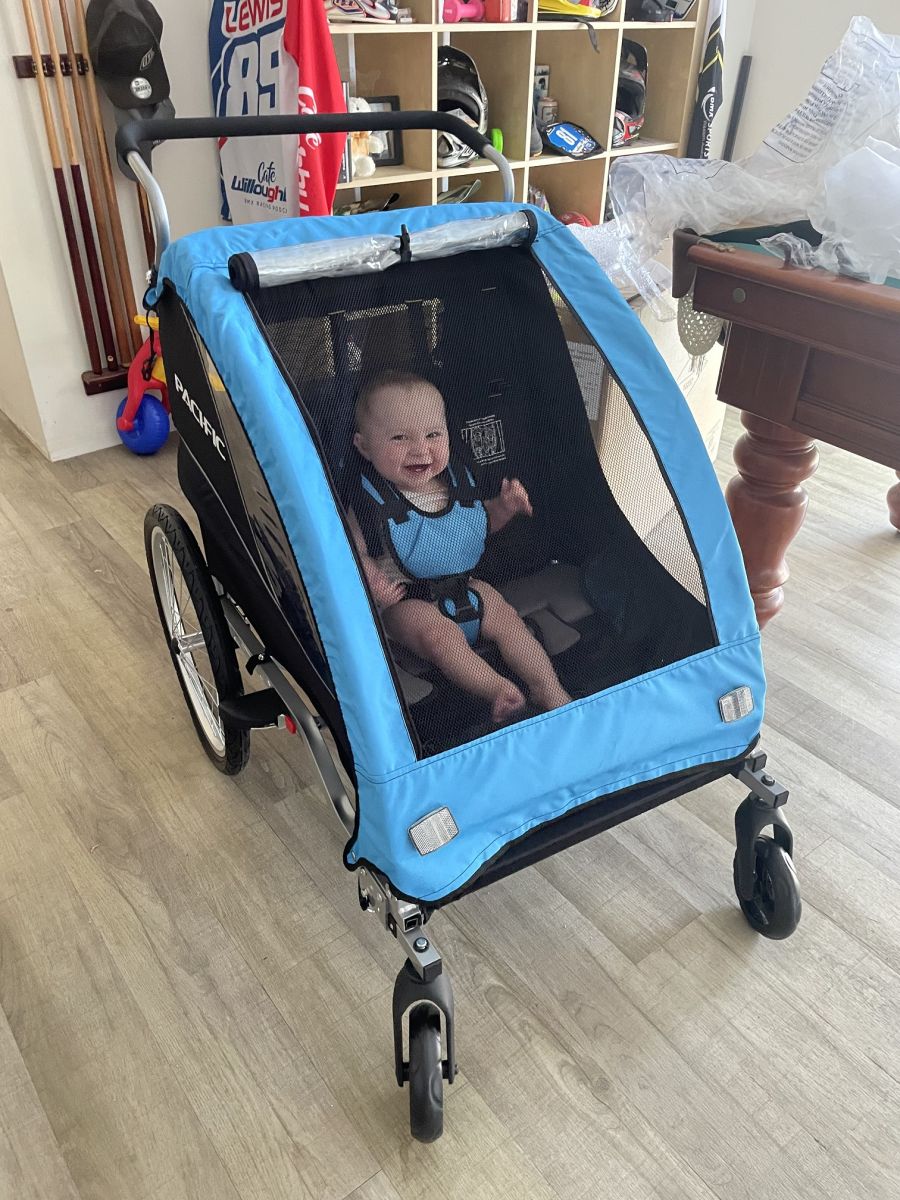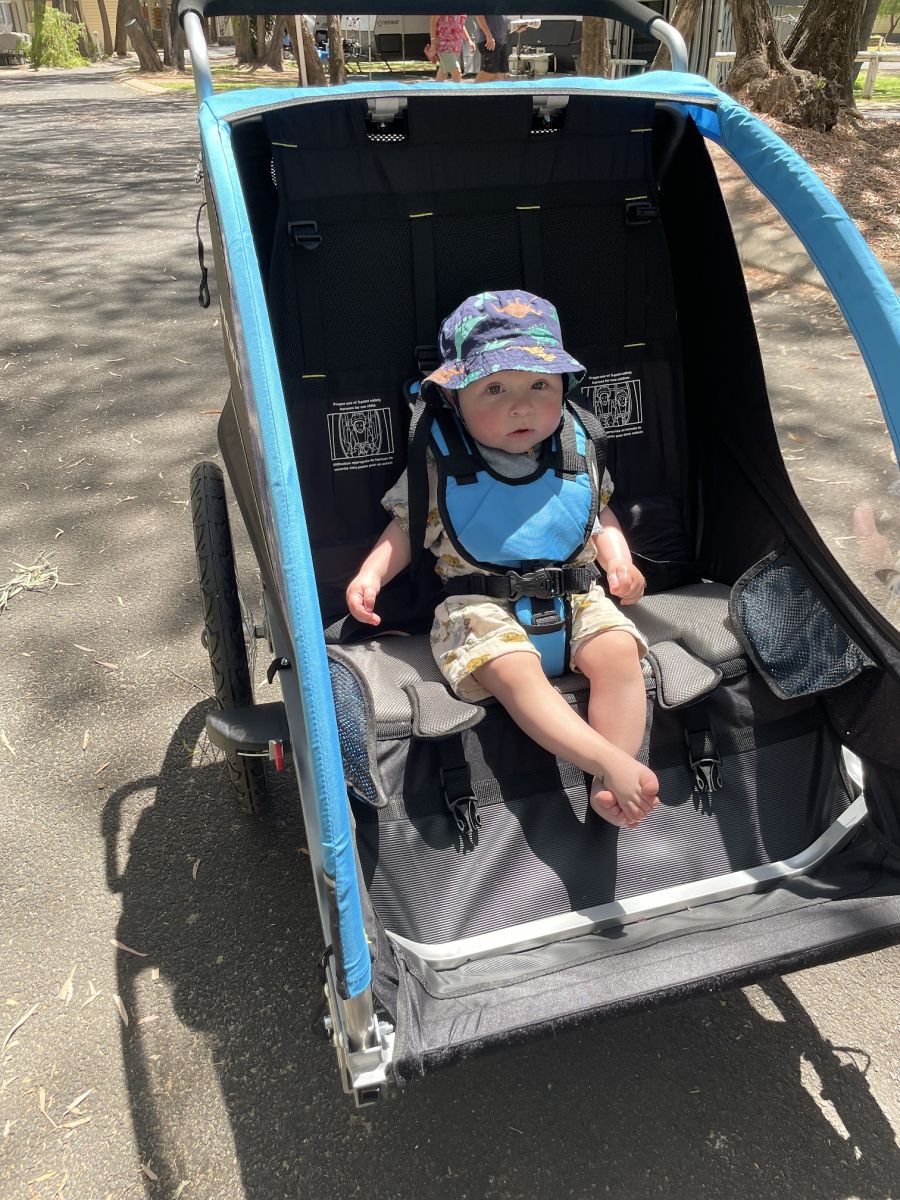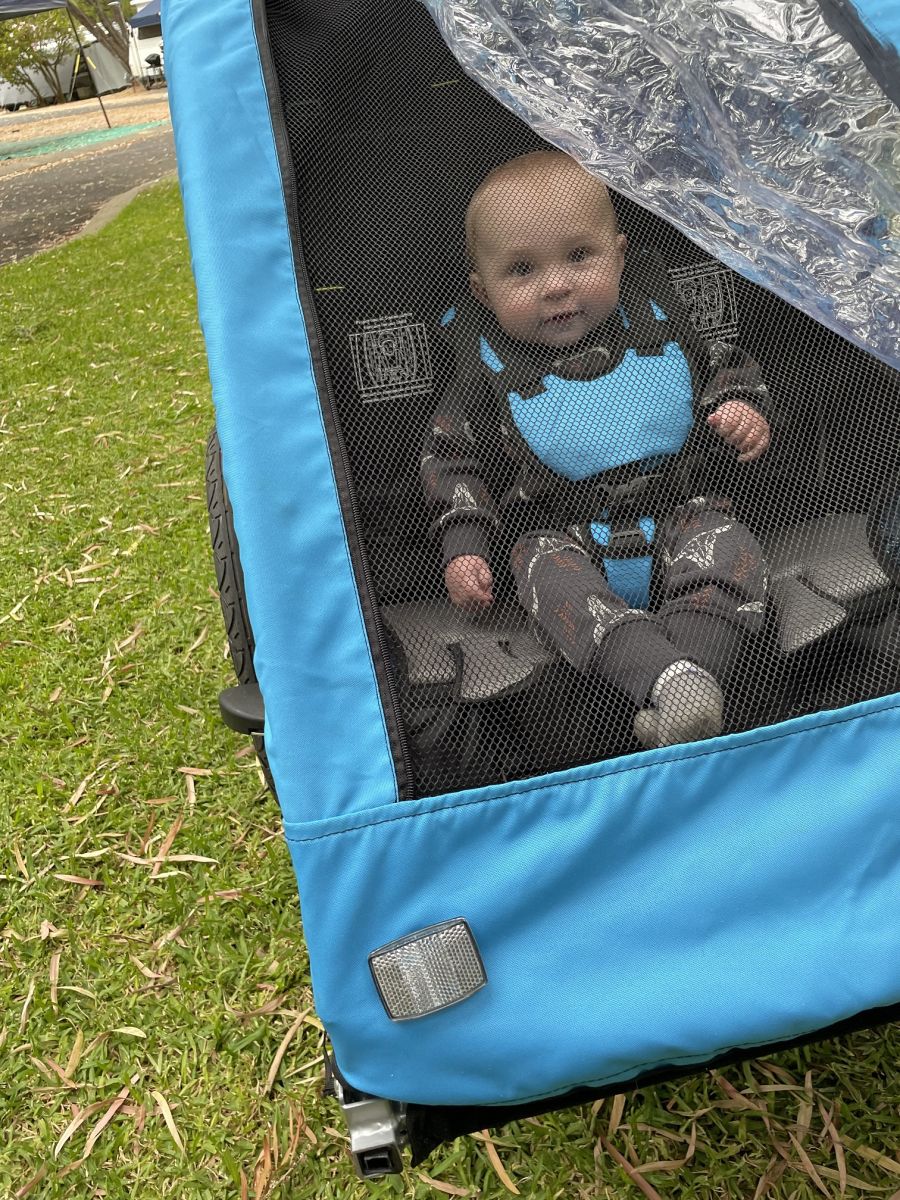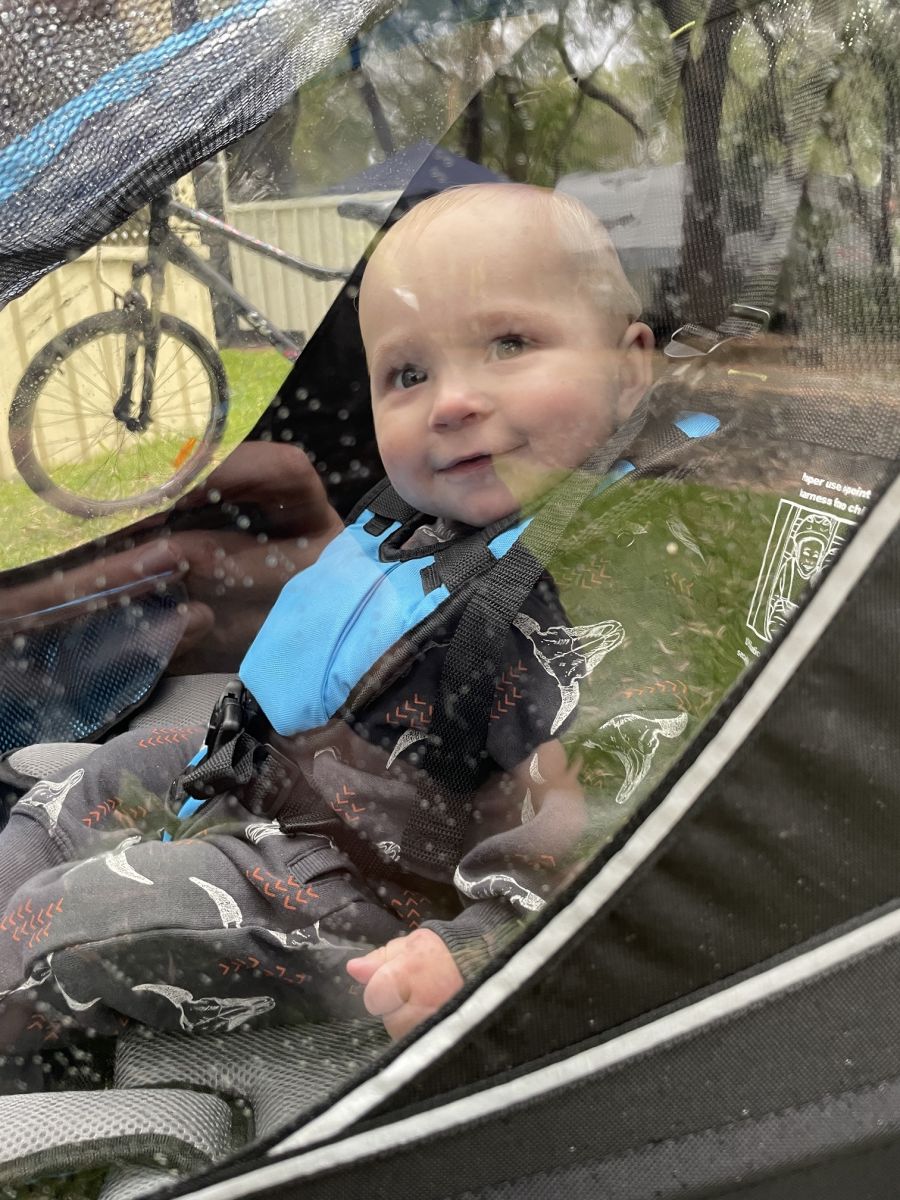 Pricing
RRP is $599